RESEARCH
I already had considerable experience of working with those with memory loss, in hospitals, day centres and care homes. I didn't, however, know a great deal about the Air Transport Auxiliary so I did a lot of reading and online research, and also had invaluable help from the Air Transport Auxiliary Museum in Maidenhead.
I was lucky enough to spend a memorable morning with Joy Lofthouse, then in her nineties but still in excellent health; a delightful person who told me about her wartime career as a pilot with the A.T.A. and her great love of flying.
John Webster writes:
I was delighted to hear of Julia's idea for a book for children within which the ATA was to provide the story background. Following our initial contacts, arrangements were made for two visits to our Heritage Centre in Maidenhead which added to Julia's existing research and she further contributed to the realism of her story by taking to our Spitfire simulator. Julia's illustrator, Susanna, joined us for the second visit during which she made several sketches for the book illustrations whilst also 'taking to the skies ' in the simulator! Julia's commendable storyline is thus not only sensitively dealing with a situation that many youngsters will be made aware of but also one based on caring research.
[John Webster, Secretary of the Air Transport Auxiliary Association and volunteer researcher for the permanent exhibition and archive dedicated to the ATA at the Maidenhead Heritage Centre.]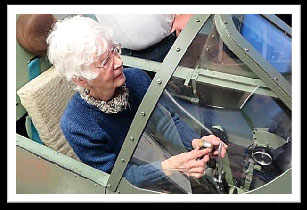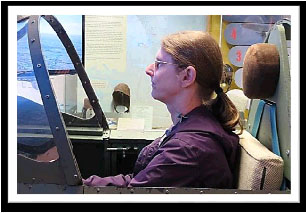 Susanna and Julia 'flying' the Spitfire simulator at the Maidenhead Heritage Centre
---
LINKS